mayonnaise
ketchup
oil
cottage cheese
spreads
canned

products and canned goods:
-meat
and milk
and fish
and vegetable
-fruit/font>
ointments
creams
gels
shampoos
pastes

dry mixes varnishes krsok
Food processing equipment. Food processing, homogenizing equipment siropovarochny boiler, boiler kolerovarochny, food equipment, mixer drunken keg brew pot, stainless steel tanks, vacuum stainless steel tanks, homogenizers, pumps, mixing. We manufacture stainless steel tanks, cookers, pot for cooking meat, vacuum tanks, stainless steel cooking vessel stainless steel vacuum reactor of stainless steel containers food grade stainless steel cooking pot, and kolerovarochnye siropovarochnye boilers, storage tanks, production line of various products, temperosbornik, Vacuum Reactors, collections of tempering, buffer tanks, stainless steel mixers loose and dense products (screw mixer, ribbon blender, drum mixer) zhirotopka, melter, dissolvers, vacuum mixers, and other technological equipment for the food , cosmetic,pharmaceutical and chemical industries.Using years of experience in manufacturing equipment, we offer you a proven unique food and other equipment for the production of condensed milk, fermentation-camp office, brewing, yeast separation, the cylinder-conical tanks (CCT), BBT office, blending department, chocolate glaze, dairy and other food products, cosmeticscreams and ointments, medicines and household chemicals, food processing equipment, dispensers, tank equipment, fasovosnoe equipment, homogenizer, kolerovarochny boiler, dryers, blenders bulk products, Minifactory, fittings, vakuumnanye capacity termotonneli, ultrafiltratsii devices, production lines, proizvodstvao pasty liquid food, chemical and household tools, milk, juice, ketchup, tomato, cheese, cream, condensed milk, food, meat, fish, processing, aerospace, chemical.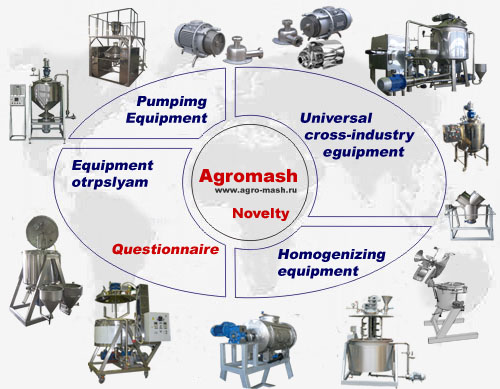 -grease
-Zhirotopka
(melter) -Autoclaves
(sterilizers) --Mixers
-Tank
equipment -Boilers
--Heat installation
homogenization homogenizers:
homogenizers
(emulsatory) single-
multistage
homogenizers
Homogenizers - imported analogues
Among the food processing equipment manufactured by us: stainless steel tanks, cookers, vacuum reactor of stainless steel vacuum vessel of stainless steel, tempered stainless steel tanks, storage tanks of stainless steel produced by standard and custom screw impeller pumps and, homogenizers, Installation termizatsii, zhirotopki, grease, melter, vacuum tumblers, vacuum mixers, homogenizers, dispersing machine, the installation of homogenization, autoclaves, cooling tunnels, Enrobing and tempering machines, cookers, dissolvers, zakvasochniki, drum, rotary, belt, screw mixers, heat exchangers machines, ball mill food, bakery equipment, meat processing equipment technology equipment for the baking industry baking pastry pasta equipment for confectionery packaging bakery baking bread rotary meat processing equipment for meat processing equipment meat processing meat processing meat processing equipment for storing low-temperature freezing chamber freezers compressors coolers water coolers units prefabricated industrial Automatic cold storage of fish meat ice makers shock freezing cooling liquid heat transfer tunnels monoblocks sewage treatment wastewater treatment plant food, equipment for production, processing, food processing, manufacturing, dairy, for, filling, packaging, packing, packaging, tanks, refrigeration, machinery, meat processing , processing, milk, meat, fish production, yogurt, sour cream, butter, canned goods, preserves, juices, drinks, mayonnaise, vegetables, fruits, vacuum, cutter, syringe, pasteurizer, mixers, dosing, food, food, machine, filling , food, container, stainless steel, tank, tank, tub, cooling, automatic line, Packer, applicator, labeler, packing, machine, filling, clipping, filling, packaging, labels, for, food, industry, technology, process, recipe recipe and technologies for food production equipment, equipment for processing food raw materials, processing of vegetables, meat processing equipment, fish processing, tank equipment All types of capacitive, pumping, filling and other equipment for processing food, cosmetic and chemical products. Line (juice, mayonnaise, etc.). "Designing, manufacturing engineering, and more. If you have a problem in the design, equipment selection and development of new combined units, please, we will from any technological complexity of the situation to find out.